UMSL Brings Campus to Prospective Students with Launch of New 360 Degree Virtual Reality Online Campus Tour – UMSL Daily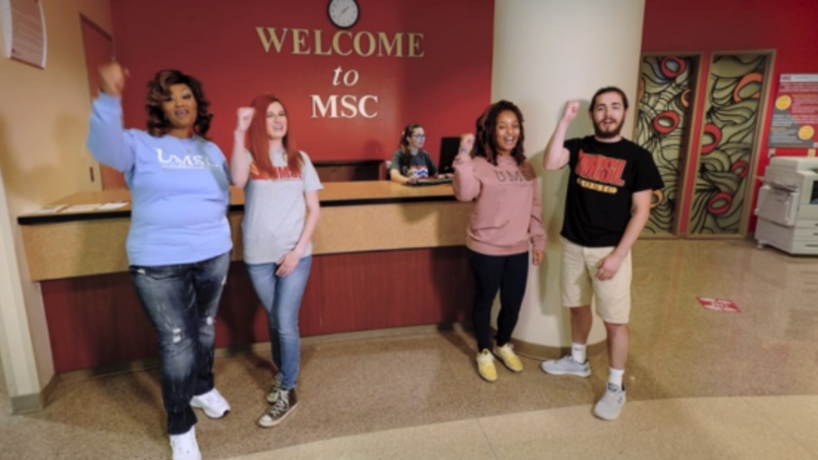 If potential students cannot come to the University of Missouri-St. Louis campus to visit, the new 360 degree virtual tour will take them to campus.
UMSL has launched an online virtual tour that makes anyone with a laptop, desktop or virtual reality headset feel like they are on campus by visiting university buildings, libraries, student accommodation, Leisure and wellness center and other places like the Millennium Student Center, the University eye center and the Blanche M. Touhill Performing Arts Center.
Along the way, people taking a visual tour can hear testimonials from Chancellor Kristin Sobolik and a number of students on the UMSL experience and all the university has to offer.
"Offering a virtual tour makes it easier to see the campus from the comfort of your home or from your own computer," said Dixie Williams, director of admissions. "Meeting the needs of our future students, current students, alumni and the community is essential. "
Williams said the idea of ​​virtual tours has become essential due to COVID-19 restrictions and has since played an important role in bringing a wide range of potential students to campus. Enabling virtual tours allows international students, students with disabilities, and students who may not be able to afford the cost of travel to gain insight into UMSL life. It also gives family members the opportunity to virtually tour the campus.
"With the pandemic, and really before it, we had to virtually introduce the UMSL and all that it offers to more than those who can make it to campus in person," said Williams. "Prospective students from other states, countries and areas of Missouri can now see everything no matter where they are. Students from as far away as Uganda and Singapore were able to visit UMSL thanks to this virtual tour.
In addition to accessing the online virtual reality campus tour, the tour will be available on touch screens placed at high traffic locations on campus.
Williams said project coordinators Alicia Taylor, deputy director of admissions, and Jacque Flanagan, admissions communications coordinator, worked with students, faculty and staff to develop the visit, enriching it with some of their experiences. personal. She said it was important because the virtual tour serves to tell the story of UMSL.
"This virtual tour isn't just about seeing the buildings on our campus," said Williams. "It highlights the services we provide, the students, faculty and staff that truly tell the story of our amazing and important university and how choosing to come to UMSL will help them be successful."
To see the virtual tour, go here: https://www.umsl.edu/admissions/tours/

Short url: https://blogs.umsl.edu/news/?p=89987