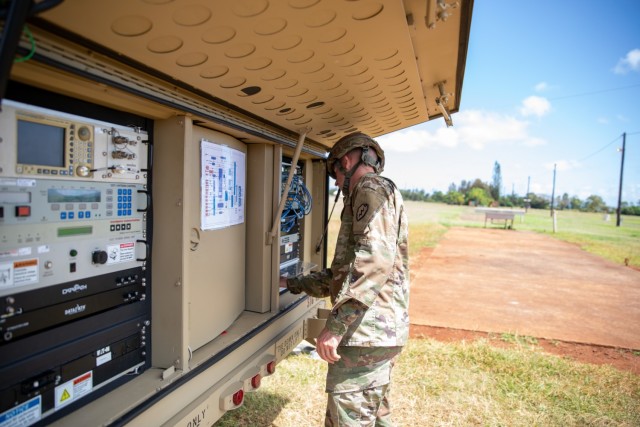 SCHOFIELD BARRACKS, Hawaii – Soldiers from the Joint Network Node Platoon, 73rd Signal Company, Division Support Troops Battalion, 25th Infantry Division Support Brigade, 25th Infantry Division restore communication in the field with the entire 25th DSB after three years of inoperation. This restoration is part of a recent equipment and training validation held for the 73rd Sig. Co. on Schofield Barracks, Hawaii on April 22.
According to Sgt. Daniel Redburn, operator-maintainer of satellite communications systems and a member of the 25th DSB Communications Workshop, the Common Network Node suffered a fatal overheating issue in 2018, causing it to go offline permanently.
The following year the JNN equipment was sent to an external source for repair and resetting, eventually returning to the 73rd Sig. Co. in the spring of 2021. Once back in the hands of "Lightning Support" communicators, restoring field communications to pristine equipment became a priority. A joint effort consisting of JNN Platoon, 25th DSB Communications Shop, the 25th Inf. Div. Communication shop and external sources; the equipment was operational within weeks.
"It is crucial for [the brigade] be ready at all times," said Sgt. 1st Class Ramiro Carlos, platoon sergeant for the JNN Platoon and NCO in charge of the validation event.
Although this formation is normal for some, for Pvt. Demiya Staples, a cable systems installer and maintainer and recent graduate of the US Army Signal School at Fort Gordon, GA, this is an opportunity for enhanced real-world training at her first duty station.
"This training gives us the opportunity to get hands-on [experience]", Staples said. "We experience this as if we were in the field or on a mission. It's a good time to learn.
For Spc. Javon Courtney, a Nodal Network System Operator-Maintainer with 73rd Sig. Co., this is a testing opportunity after years of rebuilding the joint network node for the brigade. It's also an opportunity to train soldiers like Staples on JNN equipment.
"It's good for other soldiers to see this kind of training because we can make them effective," Courtney said. "In case one of our operators [has a Permanent Change of Station] and no one else knows. This little practice will help soldiers get started.
With equipment fully restored by 2020 and the JNN platoon validation event completed in 2021, voice, data and satellite communications will become more effective and efficient for the Division Support Brigade.