Estimated reading time: 6-7 minutes
Joel Bikman knew he had to do something. As a longtime nutrition executive, he and his scientist brother had discussed creating their own health product for many years.
"We had had some unfortunate health issues in our family, and we were convinced that dietary improvements would have made a big difference," Bikman said. "And with the abundance of confusion and so many bad solutions on the market, we knew the time was right for us to help people be healthier."
The problem with the Standard American Diet (SAD)
Since the US government first established dietary guidelines in 1977, the food industry has completely changed the types of food it produces, mostly to our detriment. In fact, according to the Centers for Disease Control (CDC), the weight of the average adult American today is nearly 30 pounds heavier than the average adult American in 1977.
"When I first heard this stat, I was blown away," Bikman said. "Although it may have been well-meaning, the government unwittingly set us all down an unhealthy path, and our weight and health did not suffer."
For a variety of reasons, the government had been looking for a way to "fix" the diet for some time. With the backing of a dubious study, they determined the culprit was dietary fat and then introduced the infamous "food pyramid" which vilified natural healthy fats in favor of increased consumption of unhealthy refined carbohydrates. The nation's health and weight outcomes couldn't have been worse.
"You need protein and healthy fats to thrive, but carbs are the least necessary for the average person," Bikman said. "The health and weight issues we face today are primarily due to this misguided change in diet."
The "big" secret
Bikman has learned that increasing the consumption of healthy fats may be the most important change you can make, supporting metabolic health, brain health and more.
"Fats were treasured by our ancestors because they were the most nutrient-dense substances they could eat," Bikman said. "Fats feed your brain, help you feel full, curb your cravings for sweets, and even help your body burn excess body fat."
However, not all fats are created equal. Heavily processed soybean, corn, and canola oils are particularly harmful, while fats from olives, coconut, cocoa butter, ghee, and fermented fats like those found in apple cider vinegar are particularly beneficial.
Power of proteins
"You hear all kinds of competing theories and opinions about proteins," Bikman said. "Protein is essential, especially as you age, but we've learned that it should be eaten in conjunction with fats, just as they are found in nature."
The best types of protein, according to Bikman, are whey, egg whites, and collagen. He points out that these have the highest biological value, offer the most complete essential amino acid profile, and support lean, toned muscle, healthy joints, cartilage, and bone health.
The essential boost to your diet
"In an ideal world, everyone would have the knowledge, time, discipline, and budget to plan, shop, and prepare the perfect meals," Bikman said. "But that just doesn't happen; people are busy, stressed and making unhealthy choices that affect their health and weight."
It became apparent to Bikman that they could be part of the solution to helping people achieve their best health faster, and especially helping those who may not always have the time, knowledge or discipline to eat healthy. In response, they created HLTH Code Complete Meal.
"We are fortunate to have a leading metabolic scientist as our formulator and co-founder and have consulted with nutrition experts to ensure that HLTH Code Complete Meal is based on meaningful research, not fads," said Bikman said. "An incredible amount of work has gone into making this nutritionally optimized product, but it also tastes amazing."
Bikman says these carefully formulated meal shakes are designed to support healthy weight management, gut health, brain health, even healthy hair, skin and nails. HLTH Code Complete Meal features a beneficial, scientifically proven blend of protein, collagen, healthy fats, apple cider vinegar, probiotics, fiber, vitamins and minerals, with no added sugar or artificial ingredients.
Solve hunger pangs the right way
When it comes to eating, it's easy to consume a lot of calories and still be hungry. This is because the calories consumed are not the correct types of calories to provide essential nutrition. The HLTH code speaks of "poor diet" and it ruins the health of many people.
"Each Code HLTH Complete Meal shake contains optimized amounts of macro and micronutrients to keep you feeling full and energized for hours," Bikman says. "Yet it's more convenient and affordable than virtually any meal you could make or buy."
Bikman says the shakes are quick and easy to make: Just add two scoops of Creamy Vanilla or Chocolate Macadamia Whole Meal Powder to 8 oz. of cold water and shake or stir. For general well-being, he recommends replacing one meal a day. To reset your health or to lose weight, replace up to two meals a day.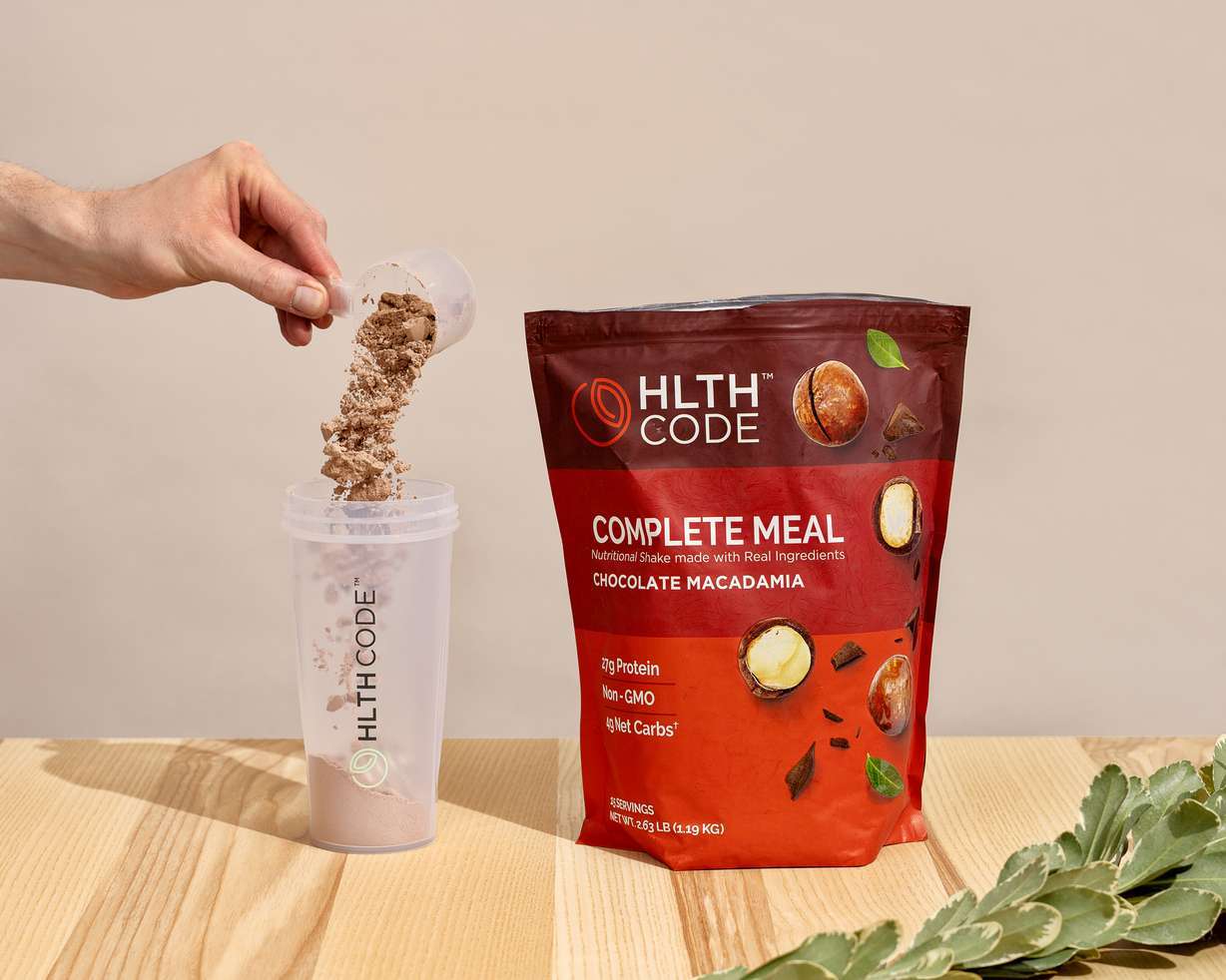 "These are by far the BEST meal replacement shakes I've EVER had. and I've tried many. These win hands down. They taste like heaven PLUS they're keto friendly, and I'm keto so win, win, win. Highly recommend them 100%. Couldn't love them more," one reviewer said.
Another reviewer shares, "They're tasty. Plus, they fill me up and keep me full all afternoon. I've been able to get past a weight loss plateau using them as lunch every day at work. "
Yet another reviewer said, "I've been drinking this for 5 months to break my intermittent fasting and I'm in my best shape and have lost 21 lbs. Can't recommend it enough!! Plus it has a good flavor!! What's not to like??"
Does the HLTH code facilitate weight loss?
According to Bikman, the best health starts with the right mix of nutrition. Increased energy; feel more dynamic; a stronger immune system; a clearer mind; improved gut health; and improved appearance are some of the benefits of improving one's nutrition.
"The comprehensive benefits of HLTH Code Complete Meal are especially helpful if you're trying to lose weight," Bikman said. "We know that losing weight is rarely easy; there have to be the right changes in hormones and caloric balance to signal the body that it's time to start burning, not storing, fat."
Bikman adds that based on the best available studies on human metabolism, in addition to exercise, HLTH Code Complete Meal helps people lose weight without needing to count every calorie.
Try it for free
If you're nervous about trying something new and making changes to your nutrition plan, don't be. Bikman stands behind its HLTH Code Meal Replacements and is ready to guarantee your satisfaction.
"We know people are going to love this world famous shake, so for a limited time we're offering trial packs," Bikman said. "You will receive a full sample of each of our two flavors, along with a meal planning guide and a $10 gift card towards your next purchase. You will only have to pay the shipping and handling costs. »
Indeed, if you are looking for improved well-being and healthy weight management, then the HLTH code might just be your answer. Act now to secure your trial pack at getHLTH.com/sample while supplies last.
Pay only shipping and handling. Valid for new customers only.
×
More stories that might interest you